After Fox Glacier, Te Anau was our next major stop (we spent 1 night in Queenstown to break up the drive). The Wifi in many areas of New Zealand, including Te Anau, is rather slow. Hence the lack of timely blog posts for good chunks of the trip! We didn't mind though, because there were so many amazing things to see and do.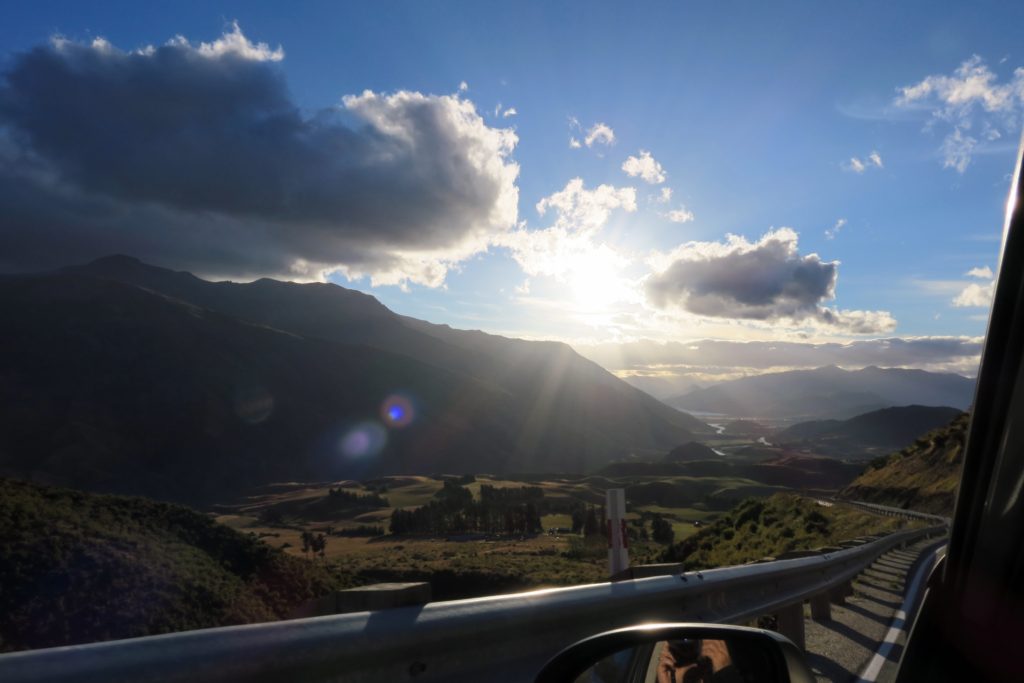 Te Anau is fairly small – a few restaurants and souvenir shops, most of which close fairly early in the evening. Our primary reason for staying in Te Anau was Milford Sound.
Milford Sound
Milford Sound is actually a fiord, and Rudyard Kipling called it the 8th wonder of the world. A friend of Sam's described it as "the best place I've ever been!" We knew we had to check it out, and it ended up being one of the highlights of our trip.
There are a lot of options for getting there and exploring (e.g. ferry, kayak tours, day trips, overnight trips, etc.). We also had to decide between Doubtful Sound and Milford Sound! Based on our research, it seemed like Milford Sound was a better choice for first timers to New Zealand. Doubtful Sound is a bit quieter, and has less boats on it. It sounds like both are spectacular though, so you can't really go wrong!
The Cruise Ride
YHA Hostel, where we stayed, booked the tour for us at a discounted rate, but there are also a lot of other companies in town you can book through. After comparing the options, we opted for a cruise tour through a company called Real Journeys. It included a bus ride out to the sound, which gave Joseph a break from driving.  The bus picked us up early right outside of the YHA hostel where we were staying, then drove us to Milford Sound to board the cruise.
At that time it was unseasonably cold and rainy for a New Zealand summer, but luckily Milford Sound is incredible even with rain! If you see it on a bright, calm, sunny day chances are you can get some great reflection pictures. When it rains; however, thousands of tall and thin waterfalls form and stream down the sides of the fiord.
There are only a handful of waterfalls that are consistently present at Milford Sound. These include Lady Elizabeth Bowen Falls, and Stirling Falls. Stirling Falls are 14,000 year old waterfalls. Legend has it the water from Stirling is so pure, that if you're hit with it you'll look and feel 10 years younger. Our boat captain drove right next to it and everyone on the deck (including us) got drenched! Not sure if the water worked its magic or not, but it sure was refreshing!
The Four Sisters waterfalls (below) only appear on rainy days.
A group of New Zealand fur seals was hanging out on the rocks when the cruise went by!
Road from Milford Sound to Te Anau
Our bus made good time and only one stop on the way to Milford Sound, since the curises are on a strict timetable. On the way back to Te Anau, we were able to stop a few more times. In order to drive to Milford Sound, you need to go through Homer Tunnel which passes 1.2 km (.75 miles) underground through the Darren Mountain Range.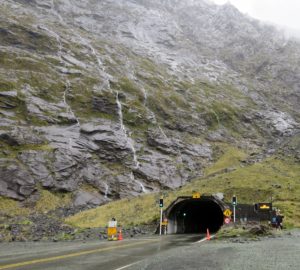 Here are some other pictures from the cool stops we made:
Lord of the Rings Adventures
There are a few places near Te Anau used in filming for the Lord of the Rings movies. This time around the places we found (and didn't find) weren't as interesting as the north island spots. We did get a neat reflection picture on our drive out to explore the LOTR sites!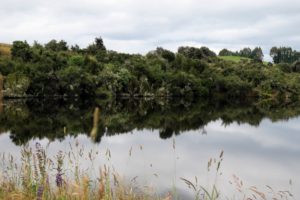 Fangorn Forest
The plan was to go to the "LOTR Fangorn Forest Stop" as Google Maps labeled it. The location Google took us to turned out to be a fenced road with a private property and no trespassing signs. There was also a deer carcass that had been skinned, sitting on the side of the road. We left that area in a hurry and took some pictures in a section of forest farther down the road. It kind of looks like Fangorn forest still (minus the Ents).
Kepler Mire – The Dead Marshes
This turned out to be a little bit of a bust. We were only able to see a vaguely marshy looking area in the distance through a fenced in area when we drove by what Google maps told us was "Kepler Mire" (where they filmed the Dead Marshes). We took a few pictures from a distance, but not the same without all of the CGI effects. You might be able to see more if you walk part of the Kepler track, which is a multi-day hike.
Wood Pigeons! and Other Birds
Just outside of the Te Anau, there is a free bird sanctuary. We went there and took a few photos of the birds they have in large enclosures, including a Takahē. They are flightless birds thought to be extinct for many years, until they were rediscovered in the mountains near Te Anau in 1948. The population has been recovering slowly, but they are still an endangered species. There are 2 of them at the bird sanctuary.
Even though it wasn't technically part of the bird sanctuary, we saw a New Zealand Wood Pigeon (known in Maori as a Kererū) in a tree while we were there! They can grow to 20 inches from beak to tail and weigh a pound! Giant pigeons! Much less dirty and more majestic than the regular pigeons you see in streets and parks in busy cities.