Richmond, Tasmania
After Hobart, and spending a few hours at Bonorong Wildlife Sanctuary, we drove up the East Coast of Tasmania to get to Bicheno. Someone we met in Melbourne suggested stopping in Richmond while we were in Tasmania. Although we hadn't planned on it, we went there to re-fuel our car and we're happy we did. It was a lovely town with a lot of history and a lot of good food.
We ordered some Shepherds pie at the Richmond Bakery, and stopped in at Coal Valley Creamery for their blueberry sorbet and decadent butterscotch thickshake, hand-made in their store. We sampled a unique flavor of ice cream called "Musk" which is based off of a type of pink candy they have here. It was different than anything either of us had tasted before, and we still don't really know how to describe it.
Richmond was a charming town with a lot of history, inexpensive and tasty restaurants, and they have a bridge that is said to be haunted! We'd love to spend more time there if (when!) we come back to Tasmania.
Bicheno & Little Penguins!!!
Even with the very winding roads, the drive from Richmond up the East Coast offered some magnificent views of both the coast line, and the rolling hills found farther inland. We got to our Bicheno AirBNB around dinner time, and were greeted by the hosts Bruce and Pam. They were so welcoming, and gave us some tips of things to do and see in the area. Their very friendly dog Kelly loved the extra attention from us, and would put her paw on your leg to gently remind you to keep petting her 🙂
The place we stayed was great, and had amazing views. On the day we checked out, we ended up talking to Bruce for a few hours. He's an avid photographer, so he and Joseph had fun nerding out over camera specs and photography. Bruce was kind enough to give us a little tri-pod he hasn't used in over 15 years, since we offhandedly mentioned we couldn't find the travel tri-pod we brought with us (we did eventually locate our in a crevice in our rental car).
Bicheno Blowhole & Little Penguins
Pam, one of our AirBNB hosts, mentioned you could usually see some penguins near the Bicheno Blowhole. We had been contemplating doing a penguin tour, but thought we'd check it out on our own first to see if we could spot some. Tasmania, and parts of Australia and New Zealand, are home to the smallest penguin species aptly named "Little Penguins." On average they are about a foot tall, and best seen at dusk when they come to shore after a day of fishing.
They don't like light, so no flash lights or flash photography! All of the information we read said to get set up before the sun goes down, and to stand in front of rocks or bushes so you don't frighten them with your silhouette. They don't mind red light as much as regular light, but we played it safe with no light. Sure enough, just after sun down, we saw about a dozen or so penguins emerge from the water and waddle their way up the rocky shore. They were so tiny! And while we didn't really get any photos where you can see the penguins, it was an incredible experience.
If you're less inclined to venture out on your own, we read good things about Bicheno Penguin Tours. They offer guided tours every night, which is a great way to see them while ensuring you don't disturb or scare the penguins.
Freycinet and Wineglass Bay
After seeing a number of gorgeous pictures of Wineglass Bay, we knew we needed to go there! In the morning we ventured out to Freycinet (fray-si-nay) National Park for a full day of hiking. We still had a National Parks Pass that was valid from our trip to Mt. Field National Park, but they do sell them at the visitor center. They also sell bug spray, which is helpful since there are a lot of mosquitos in the wooded areas, and we were told some of them carry Ross River Fever.
There are many hiking options for all levels. We opted for the Hazards Beach Track, which was about 11 km or so round trip. Bring snacks and water if you're doing that one! We stopped at the Wineglass Bay lookout first, then wound our way around to a marsh-like area, next Hazards beach, and then up a rocky path before finally arriving at the car park.
Before you leave Freycinet, it's worth stopping at the Light House for a different view of the bay. We're glad our awesome AirBNB hosts suggested this, otherwise we might have skipped it!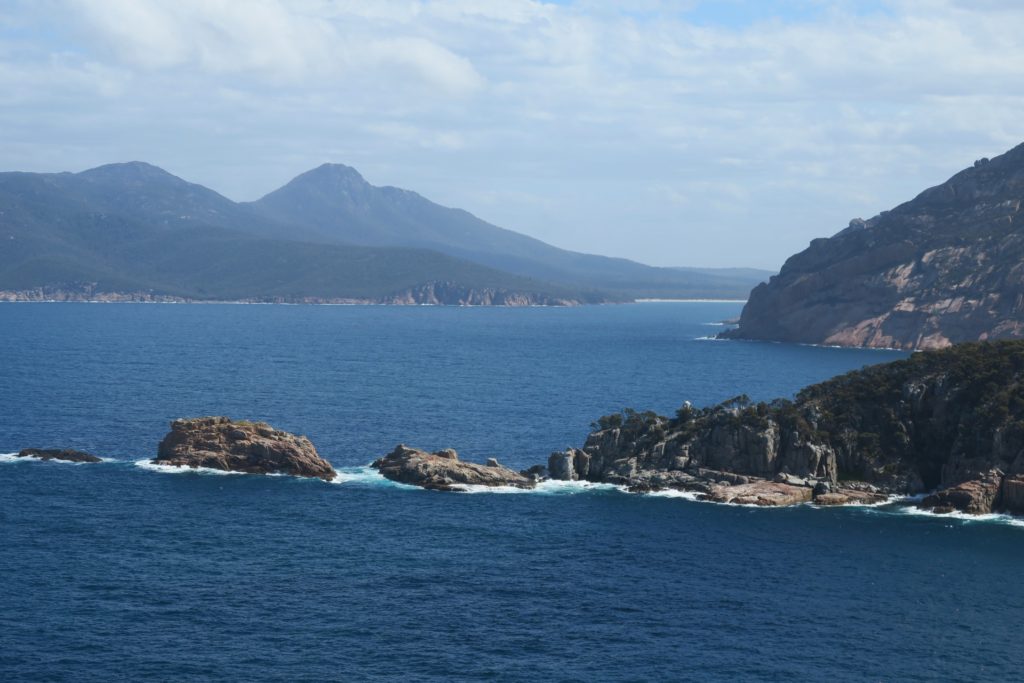 The Pondering Frog Tea Room is a short drive from the National Park, and they have cold ice cream and sorbet. Perfect reward for a long day of hiking!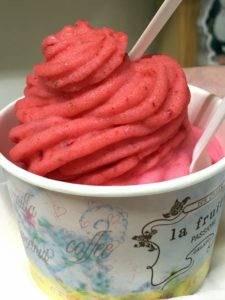 Here are some of our favorite photos from the hike:
Bicheno Eats
Bicheno is a relatively small town of about 850 people, so most everything closed up around or before 8:00 p.m. For dinner our first night we ordered a pizza from Pasini's for dinner on our way to penguin watching. On our way out of town the day we left, we went to the Blue Edge Bakery. They had great, reasonably priced options. Check out both of those places if you ever stay in Bicheno.