We woke up early and packed up to drive to Launceston, our last stop in Tasmania. After talking to our AirBNB host, Bruce, he suggested we stop at St. Columba Falls if we could. He also mentioned there was a dairy farm and cheese factory up that way that had self-milking cows.
Our planned stops were Pyengana Dairy Company > St. Columba Falls > Bay of Fires > Launceston. Our unplanned stops…that was a more extensive list 🙂 Be sure to build in extra time for stops if you're driving through Tasmania! Between random fruit stands with delicious raspberries, photo ops, and a ton of amazing beaches, it always took us a while to get from A to Z.
Pyengana Dairy Farm & The Holy Cow Cafe
We're pretty sure it's mandatory to stop here if you're in the area! We had a great meal! Joseph described his Jam, Scones, & homemade whipped cream as "what dreams are made of" and offered Sam "free smells from the remnants of my scones" in exchange for some of her pot pie (which was also fantastic!). (Note: He did actually give Sam a bite of his scone feast) 🙂
We capped the meal off with some of their homemade ice cream. They had a unique flavor called "Pepperberry" that was refreshing and not too sweet, but we opted for a mix of Vanilla and Myrtle Lemon. Sooo good!
Another thing we thought was unique about this place, is that there was an on-site dairy farm that has self-milking cows. They have an area that the cows walk into, are registered electronically by the collars they wear, and are milked by a "robot" / automated machine. The cows get rewarded with feed and a nice rotating back scratcher once they're finished being milked. This article from 2011 has more information if you're interested, but we thought this was pretty cool. And all of the cows seemed pretty stoked about getting brushed after milking. They had quite the line formed!
In addition to amazing food and self-milking cows, a few of their cheeses have won awards. Their cheddar was awarded the best dairy artisan product in 2014 and 2015 by ABC Delicious Produce Awards. They offer tastings of several of their cheeses.
St. Columba Falls
Once we finished eating and said goodbye to the happy cows at Pyengana Dairy Farm, we headed up the road a few more miles to the St. Columba Falls trail. Bruce (awesome AirBNB host) told us he mentioned the falls to another group who stayed with him, but they stopped about 4 minutes short of the falls, thinking that the "falls" were just a small creek. Needless to say they were disappointed, and we were determined not to repeat their mistake.
There's a small building marking the trail entrance. It confused a few people who asked us for directions when we finished hiking, because there is another section that looks like it could be the trail head too. Here's a picture of where the trail starts (sorry about the JJ Abrams-esque lens flare! It was the only angle that didn't include the tourist dude who was standing inside the hut)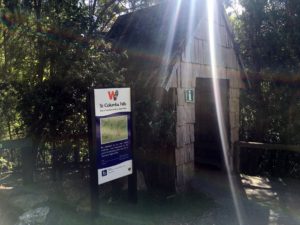 This is the most accessible falls we've been to in Tassie so far! It's only a 15-20 minute walk (there and back – we timed it!) + however long you want to stay at the falls. There was a nice gravel trail with railings along most of it, and it never got very steep. You can see and hear the falls through the trees before you arrive at the base. The view was incredible, and the pictures don't do it justice.
Bay of Fires
After St. Columba Falls, our next planned stop was Binalong Bay and the Bay of Fires. It was a beautiful location with spectacular views. The bay got its name from an explorer who spotted Aboriginal fires along the beaches. The coast of huge granite boulders splashed with bright orange lichen, and the water is clear and turquoise. We trekked over some of the boulders and were rewarded with beautiful beach views, and happened to spot some pelicans and a little wallaby.
Launceston
We got into Launceston later than we planned with all of the additional stops, but woke up early the next day ready to explore. Our first stop was City Park.
City Park
City Park had some nice walking paths, statues, giant chess board, and a plant conservatory you can walk through. Plus there's no entrance fee as its a public park. We thought the highlight was the Snow Monkeys (Japanese Macaques) they had in a park exhibit.
Cataract Gorge Reserve
After our stop at City Park, we aquired sandwiches and a Tim Tam thickshake from Milk Bar. Joseph is now a big fan of Tim Tams, a type of Australian chocolate wafter cookie that are essentially little bites of magical deliciousness. We learned the other day that thickshakes are Ice Cream + Flavored Syrup + maybe some milk, and milkshakes here are more like flavored milk and much thinner.
We took our newly acquired lunch and went to Cataract Gorge Reserve to have a picnic and go on a hike. They have a small fee for parking (coins required), but the park itself is free. They had shaded picnic tables, a public outdoor swimming pool, and a few peacocks roaming around. There is also an elevator down to the lower level, so it's very accessible.
We went on the Duck Reach Track that takes you up a very steep hill (very. steep. the signs aren't kidding!) with stairs near an old power station. The signs say it takes about 45 minutes one way to get to the power station, but we're not sure how long it took us. If you subtract the extra time Joseph needed to take pictures of every single lizard we saw along the way because "every lizard is majestic!!!" it's probably close to 45 minutes one way.
It was surprisingly loud! There were thousands of cicadas in the trees lining the path, and they were chirping away the entire time. They're called Red Eye Cicadas, and are a bit strange and/or gross looking.