Taupo
Taupo is a really neat town in the North Island of New Zealand. It boasts a beautiful lake, and we really enjoyed exploring the surrounding area, including Huka falls and Waipahihi botanical reserve. The weather was perfect, and we had fun taking some pictures of ducks near the lake.
Where to eat in Taupo
Our first favorite was Paulys Diner. They serve burgers, fried chicken, and other types of comfort food. Their fried chicken looked good, but we went for two Dr. Luke's (bacon cheeseburger) with some variations from what was on the menu. Delicious food, and a must try if you stop through Taupo!
We also enjoyed lunch at Sun Court Sushi. They have all of their rolls on refrigerated shelves, buffet style. You pick out the rolls and sushi you want, and check out. We got some great fresh rolls and salmon sushi. They have a lot of variety, and came highly recommended by Trip Advisor.
What is a Tui?!
At Waipahihi Botanical Reserve we saw a few birds we hadn't seen before, including a California Quail pair…
…and this guy!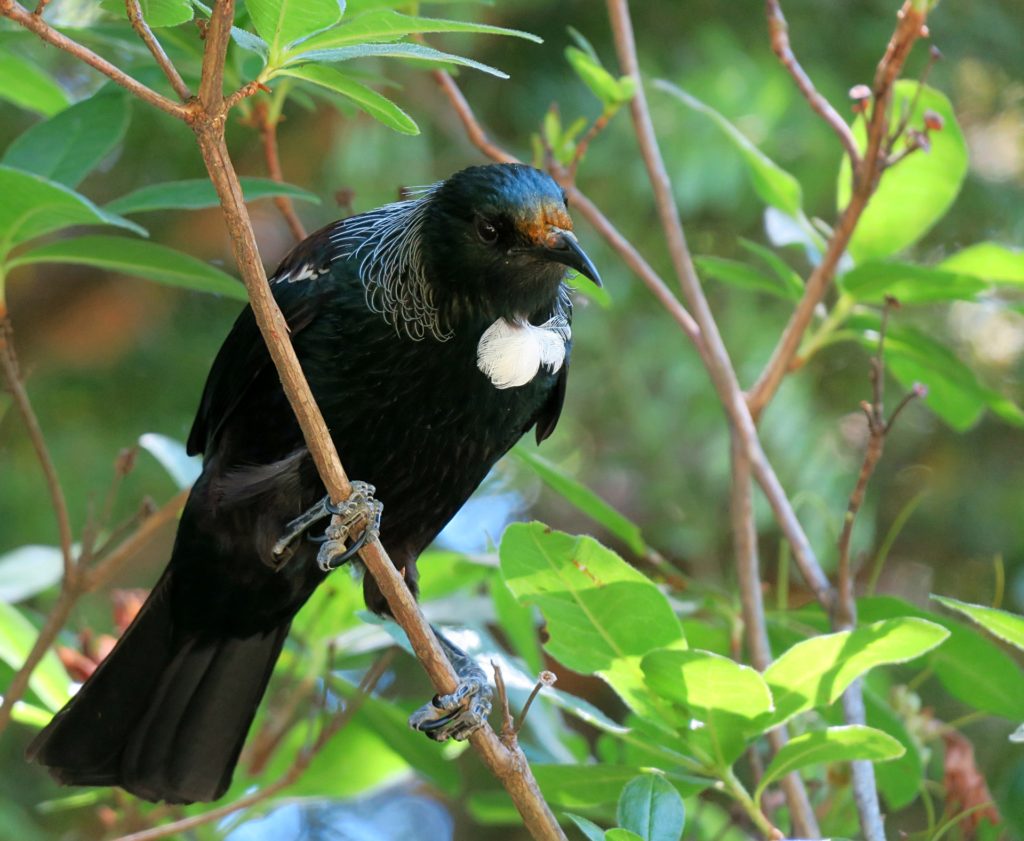 This bird is endemic (native) to New Zealand, and known by their Maori name of "Tui." At a distance they could be confused for a crow or raven, but if you look closer they have bluish iridescent feathers, and a signature white throat tuft. They're fairly common in a lot of areas of New Zealand, but this is the first one we were able capture in a picture! In our experience they usually sat in one place just long enough for you to focus your camera, but not long enough to actually take a picture.
Huka Falls
Just outside of the city is Huka falls. One of the less vertical falls we've seen, but the water was a beautiful turquoise color. Even without the verticality, the water flowing over and through the falls amounts to 220,000 liters per second (~58,000 gallons / second ). The flow is so strong there are no Eels in Lake Taupo, because they can't swim against the current. One popular activity in Taupo is to take a jet boat up the river to the base of Huka falls (and typically get very wet in the process).
Mount Doom!
On our way out of Taupo, we saw Mount Doom! Well, the mountain they used in the Lord of the Rings movies to represent Mount Doom anyways (only with less CGI). The mountain next to it is Mount Ruapehu (which we thought was Mt. Doom at first – oops!) Eventually we realized we were taking pictures of the "wrong" (non Mt. Doom) mountain, and got some great pictures of both!
Mount Nguaruhoe and Mount Ruapehu are active volcanoes! To get here, drive South on Desert Road from Taupo until the mountains appear in view. You can't miss them! Alongside the road there are plenty of places to pull over for photo opportunities.