Wellington, New Zealand's "Windy City" has a lot to offer. We visited a few of the filming locations of the Lord of the Rings movies, walked through their botanic gardens, interacted with some neat animals, and had an all around great time!
One of the first things we did was drive to the top of Mount Victoria. From there, you can see an amazing 360 degree view of Wellington! You can also hike up to the top, but we had a lot of things on our schedule and figured driving would save us some time. In addition to some killer views of the city, we also saw a new (to us) type of butterfly: a Yellow Admiral.
LOTR Sites In Wellington
Hobbiton Woods
The forested area just down the hill from the top of Mount Victoria is the location used for filming Hobbiton Woods and the road to Brie in the LOTR film. So of course, we had to re-enact a scene from the movie where the hobbits are hiding from the Ring Wraiths. 🙂
Rivendell – Kaitoke Regional Park
Kaitoke Regional Park is where they filmed Rivendell, an Elven Realm in the Lord of the Rings movies. They used this park for some scenes such as the Council of Elrond. In addition to this park, the filming crew used several other locations throughout New Zealand to help bring Rivendell to life.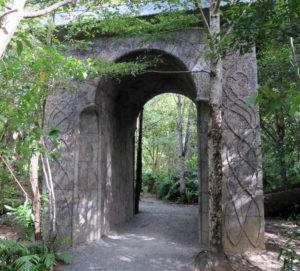 Weta Cave
Wonderful nerdy stop in Wellington: The Weta Cave. A 15 minute drive from the main city, this is a must see for any fan of the LOTR movies! Weta Workshop and their group of companies designed and manufactured both props and costumes, and created digital effects for the LOTR and Hobbit Films, as well as many other impressive films (e.g. Avatar).
The Weta Cave is a shop containing an impressive array of high-end sculptures, replicas, prints, and gifts designed by Weta artists. It's a great place to get souvenirs and collectables, and you can also pay to tour the Weta Workshop where they work their magic.
We skipped the paid tour in favor of walking around the shop, taking pictures with troll statues, and watching the free 30 minute documentary about their work on various films. They showcase many props and artifacts from the films they've worked on, so that was really neat to see!
Staglands Wildlife Reserve
One of the non Lord of the Rings related activities we did in Wellington, and it was amazing (aside from the drive there). The drive here was soooo steep and windy, and lacked guard rails at several points. By now Joseph is a pro at driving on the left side of the road!
Staglands Wildlife Reserve is an impressive place. You can see and interact with a lot of really interesting animals, many of which we'd never seen before. They had everything from farm animals, to walk through aviaries, to eels! Some of their animals are captive reared, and others were injured and couldn't be released into the wild.
Our favorites were probably the Kea. Kea are Alpine parrots found only in New Zealand, and the ones at Staglands are between 3 and 33 years old. Keas are very curious, and have a level of intelligence equivalent to a 6 year old human child!
Here are some of our favorite pictures: